Studies
Right now I'm spending the major part of my time studying. So I'll try to be short even if it's quite impossible and I'm sure I'll leave something out!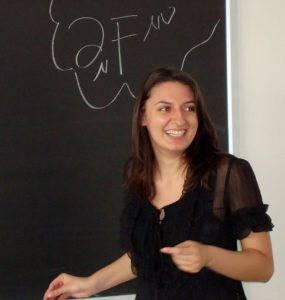 I love Maths since elementary school, I played with fraction before getting to know their properties.
I studied Accountancy and Computer Science in college and Physics at the university, I finished my academic studies (for now) with a study on the Aharonov-Bohm quantum effect from the point of view of Physics and Topology, loving the fact that we can understand property of our reality through a branch of Mathematics.
After that I shifted for a little while in programming with a Ruby and Java internship at ThoughtWorks in London, and working in the QA team of GoEuro in Berlin. Through Mozilla I went back in learning Python and discovered Rust and A-Frame.
Last year I started doing Data Science with R and Python, and it exploded with the interesting PyData talks and PyCon 8 in Florence.
During all these years I was deeply passionate and committed to understand human behavior and mind. I started listening deep guided relaxation, than creating them and studying more and more on the mind electromagnetic activity, plasticity of the brain, movement and Movimento Arcaico, eyesight improvement, spontaneous healing and some social psychology to understand how to leverage human behaviour to make the world a better place and freer from bias (I can also say 'I get paid to play Tetris' when I participated a Social Psychology experiment in Cambridge, UK).
Right now these studies converged in a quite fringe topic: understanding human consciousness, possibly from the point of you of Physics. I think Data Science and its fellas Machine Learning and Artificial Intelligence could interact to find out what is going on, and vice-versa discovering more about consciousness will lead to a more careful production or artificial intelligent machines.
Physics really remains with me anywhere I went, studying Quantum Computation, talking to anyone about the wonders of the quantum world, the immense universe and space exploration to anyone.
In this section I can't leave at least two other things, namely music and languages.
My mother tongue is Italian, and even if I want to improve my English, I started with Spanish and very slowly with Chinese. I had some exposure with French and German, but I can't talk in either languages, even if I can do a wonderful French accent, actually I'm pretty good with the Hindi accent too.
As for music, it's a visceral passion for me, I danced since I was born I guess, to deepen my musical knowledge, after part of my life scratching as a turntablist, I've started with the drums and the piano, looking forward to join a jazz jam session one day.